Home » Publications »
Investigating and Reflecting on the Integration of Automatic Data Analysis and Visualization in Knowledge Discovery
Investigating and Reflecting on the Integration of Automatic Data Analysis and Visualization in Knowledge Discovery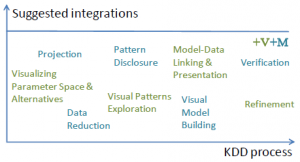 The aim of this work is to survey and reflect on the various ways visualization and data mining can be integrated to achieve effective knowledge discovery by involving the best of human and machine capabilities. Following a bottom-up bibliographic research approach, the article categorizes the observed techniques in classes, highlighting current trends, gaps, and potential future directions for research.
In particular it looks at strengths and weaknesses of information visualization (infovis) and data mining, and for which purposes researchers in infovis use data mining techniques and reversely how researchers in data mining employ infovis techniques. The article then proposes, on the basis of the extracted patterns, a series of potential extensions not found in literature. Finally, we use this information to analyze the discovery process by comparing the analysis steps from the perspective of information visualization and data mining.
The comparison brings to light new perspectives on how mining and visualization can best employ human and machine strengths. This activity leads to a series of reflections and research questions that can help to further advance the science of visual analytics.
Read the full article here:
Investigating and Reflecting on the Integration of Automatic Data Analysis and Visualization in Knowledge Discovery
Leave a Comment
You must be logged in to post a comment.